Healthy Mummy Pizzas (gluten free)
Healthy-fun pizza? YES! We found the best recipe for this one.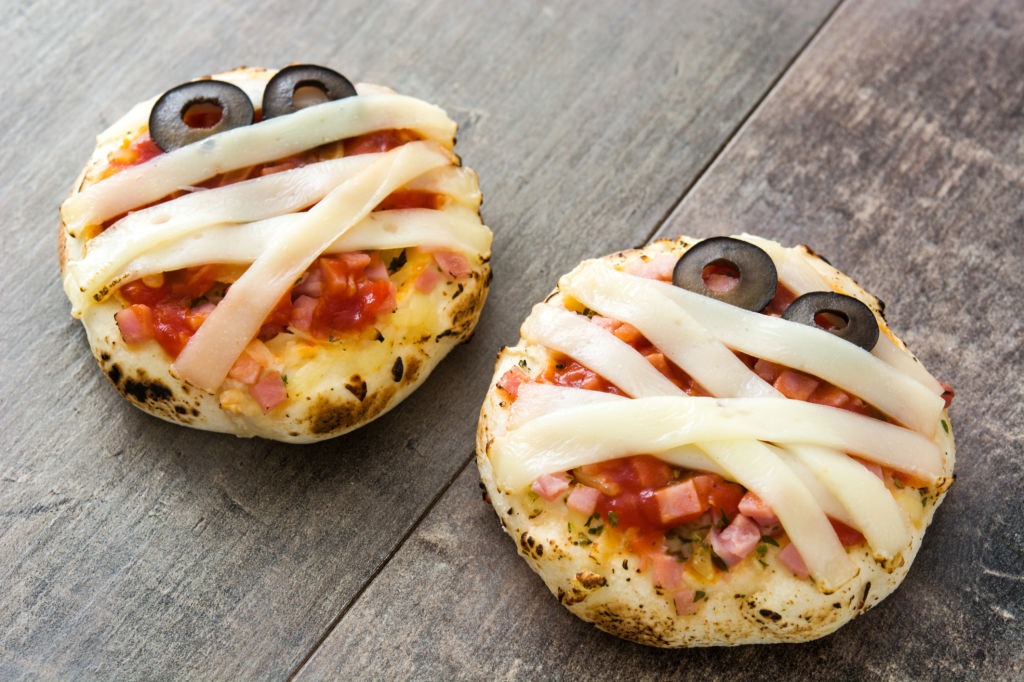 As a main ingredient, spinach improves digestion and sustains eye health. Popeye's favorite is also your comrade against stress and heart diseases. For this healthy, tasty & gluten-free dish, check out the recipe below.
Cook time: 30 minutes
Portions: 4 mummy pizzas
Ingredients:
o 4 tablespoons of tomato sauce
o 300 g of ground chicken
o 5 mozzarella sticks
o 85 g of spinach
o 1 egg
o 1 large tomato
o 4-5 green olives
o 4-5 black olives
o a pinch of salt & a pinch of pepper
o olive oil for greasing the surface
How to
Step 1. Preheat oven to 170°C. Use the blender to transform the spinach leaves into a paste-like mixture and transfer it to a bowl.
Step 2. Add the egg, season with salt and pepper, and stir in the ground chicken. Mix to combine all the ingredients.
Step 3. On a baking sheet lined with parchment paper place a springform pan (remove the bottom first leaving only the outer ring). Grease with vegetable oil. You can use an even smaller pan or any similar round shape for the chicken spinach pizza base. Press the chicken and spinach mixture into the mold and even it out so it becomes about 2-3 cm thick.
Step 4. Do the same for the rest of the pizzas. When ready, transfer to the oven and bake for 10-15 minutes.
Step 5. Remove the baking sheet from the oven, add 1-2 tablespoons of tomato sauce onto each flat circle of the pizza "dough". Upgrade them with one more layer of a tomato slice and mozzarella strips.
Step 6. For melted and slightly golden-brown edges of the cheese, bake for another 10 minutes. Finally, once the pizzas are baked, it's time to be playful and decorate them with sliced olives to create the eyes.
Dinner is now served!